Mylar® DuPont & 2LSO polyester insulating tubes, tubing, sleeve & insulator caps
THEMAL CLASS B-F
Mylar® DuPont polyester spiral wound tubes & caps produced by Politubes are used for many applications such as electrical insulation, thermal or chemical protection in the electromechanical and automotive industry.
The spiraling technique consists in coupling a series of adhesive-coated strips, winding them around a mandrel, obtaining a tubular whose electrical, thermal and mechanical characteristics are the sum of the ones of each layer.
Mylar® DuPont polyester is an exceptionally strong, durable, transparent film with high tensile, tear and impact strength. It is moisture and vapour resistant and does not transmit oils, greases and volatile aromatics.
These custom designed Mylar® components can be supplied as tubes (round / oval) or ultrasonic welded, ultrasonic dot welded, bullnose insulation caps or low shrinkage semi caps.
Heat shrinkable Mylar ® polyester – 2LSO tubes & insulation caps.
Mylar® polyester tubes and caps can be supplied also with a shrinkage of 35% and they offer a dielectric strength far exceeding other shrinkable materials.
They are extremely tough and forms an excellent mechanical, thermal, electrical, chemical barrier for those components on which they are heat shrink achieving a perfect adhesion and shape of the internal component.
One of the advantages to using a shrinkable polyester film for insulating material is that even after it has been shrunk onto a component, it is able to move, twisting and bending as necessary without exposing the insulated product. This elasticity, coupled with its high temperature rating makes it an ideal product of choice for cable, wire assemblies and crimping.
For special applications also low shrinkage (15%) 2LSO polyester tubes and insulator caps are available.
Politubes adhesives, carefully selected during our forty years of experience, comply with all REACH and RoHS most updated regulations. They are compatible with resins and chemicals in the end-use application and guarantee that the original thermal, dielectric, mechanical, chemical properties of the films used are fully maintained.
APPLICATIONS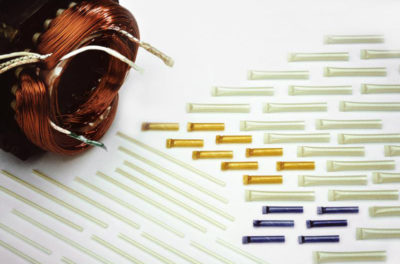 Mylar ® tubes & caps are mainly used for:
Electrical insulation during the crimping of connections and wiring loom
SPM BLDC brushless motors to fix and protect permanent magnets
Noise reduction and protection for rotors of universal motors
Motor lead termination
Welding insulator
Electrical connections in automotive market
Final connections electric motors
Hermetic electric motors
Automotive
Coil windings
Guarantees the double electrical insulation requested by IEC 60335-1 standard
Anti-corrosion cathodic protection for flanges bolts
Compressors
Hermetic pumps
Capacitors
Resistors
Industrial sensors
Pencil coil
Transformer tie rods
Thermistors, thermostats, thermal protectors, thermal switches, thermal cut-off within electric motor windings temperature probe
Cable harness
Our Engineers are at your disposal to custom design and offer more technical specs for your specific application at orders@politubes.com – www.politubes.com – Phone +39-039-9054901 (Italy).
MYLAR TUBES & ENDCAPS TECHNICAL SPECIFICATION
| | |
| --- | --- |
| Inside diameter y | From 1.8 to 145 mm y |
| Thickness | From 0.05 to 1 mm |
| Length | From 6 to 6000mm – Tubes rewound in rolls can reach 1000 meters length |
| Types of insulation end caps available | Ultrasonic welded; ultrasonic dot welded; bullnose; semi caps |
| Color | Transparent, coloured or with a helical coloured stripe for fast code identification |
| Dielectric strength Mylar ® DuPont | Up to 19 kV for the 250µ – ASTM D149 |
| Dielectric strength Mylar ® HS DuPont | 3,5 kV – ASTM D149 |
| Service temperature | – 60 °C to +150 °C |
| Water absorption | 0,8% ASTM D570 |
| Specific gravity | 1.39 |
| Melting point | 254 °C |
Mylar® UL certification is nr E93687. Politubes will provide specific tubes & caps technical data sheet accordingly with sizes requested. Mylar® is a DuPont Registered Trademark.